I started blogging since Friendster days mainly to put my thoughts into writing but I have developed a love for photography so when I realized I don't have much time to write anymore, I moved to Blogger and created a photoblog. I later learned that i can earn through writing paid posts from my friend, Betchai of TJOSL and BIBO. I can't thank her enough for the influence and overwhelming support in my journey to blogging happine$$.
In spite of my busyness as a working mom, I decided to buy my own domain and continue blogging for a good cause. I use my blog earnings to lend a helping hand in times of need. I

donate majority of my blog income to my chosen charitable institutions including but not limited to:
World Food Program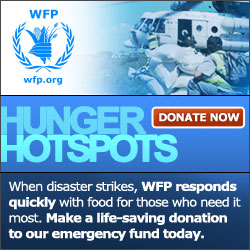 and
Red Cross
I used to donate my blog earnings as anonymous but a friend suggested i should come out in the open to inspire other people. With all honesty, I don't earn that much from writing sponsored posts but let me tell you this. A little help goes a long way, it doesn't matter how much you give. A dollar from a thousand people sums up to one thousand dollars. You get the logic.
Believe me or not, with the little money i have i was able to help a high school friend and
another friend
who desperately needed financial help. I also contributed a little to my group blog,
The Salitype Society
's scholar. All those
little
help were HUGELY appreciated however, when i give i don't really expect anything in return. You may or may not appreciate my little help, what matters to me is i share what little i have.
Just recently, I came across my friend's blog post
Two Activities, One Purpose
. It is about raising fund for Therese, a little girl with Relapsed Clear Cell Sarcoma of the liver. I knew right away that I HAVE to give whatever little money left in my paypal account.
I strongly belive that it is better to be of help than to be a recepient of help.
My heart goes to the innocent young girl and her parents. There are no words to describe the pain and agony they are going through.
I blog not because i have all the time in the world. I find time to blog not just to chronicle beautiful memories but for a greater purpose. Consider yourself helping people if you visit my blog. Increase in website traffic invites more sponsors for writing paid posts which means more people will benefit from my blogging happine$$. Please share this to your family members and friends.
THANK YOU and GOD BLESS YOU HUNDREDFOLD.
PS.