In a bathroom, perhaps one of the most important elements is the bathroom cabinetry, so make sure you choose your and incorporate vanity cabinetry in your bathroom wisely. Here are some ideas on how and what kinds of cabinetry you can incorporate for high quality color, design and style that suits your bathroom.
1. Formal But Not Fussy
A symmetrically balanced arrangement of cabinetry, mirrors and sinks in a bathroom can look graceful and elegant. The cabinetry can appear as freestanding furniture if it features exposed legs. Two sink areas can be separated with a central storage unit, featuring an array of cabinets and drawers.
2. Warm Minimalism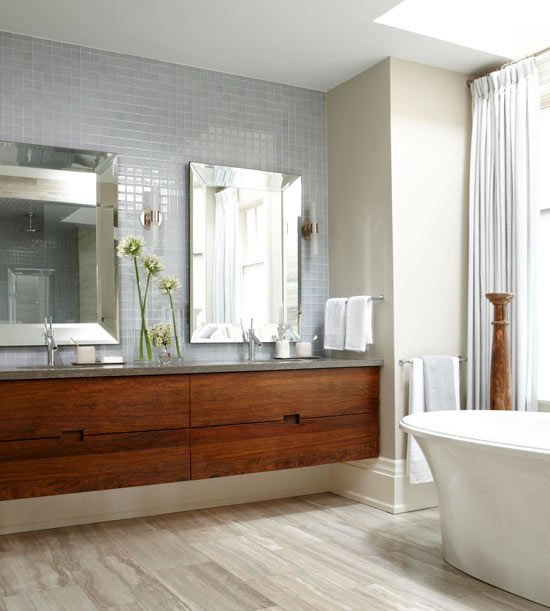 This idea is all about simplicity, where a tiled vanity wall can complement the texture of marble flooring. The vanity can be reduced to a straight line of wooden drawers in a dark, warm wood grain with flat fronts. Gravity-defying vanity cabinetry can become the center of emphasis in the bathroom by letting the drawers float above the floor.
3. High Contrast
The look of a small bathroom can be conveniently expanded with white and other light neutral colors. However, the space may feel cold and washed out due to the lack of colors. An almost all-white bathroom like this can benefit from dark wood cabinetry with a white marble countertop on top of it. A varied storage can be provided for bathroom necessities by separating the two sink areas with a panel of shallow drawers.
4. Chic Statement
The concept of this idea is to convert furniture into vanity. In this idea, a thick, integrated sinks into white marble countertop with clean-lined storage units below. The result will be a glamorous and sophisticated look. To lend cohesion to the space, the marble can be repeated in the shower stand and along another wall. The bathroom will get a highly-styled look because of the stone and wood combination, along with glitzy chrome accents.
5. Small But Wonderful
This is another idea for a small bathroom where a dark wood vanity cabinet can punctuate a wall of tiny mosaic tiles. Regardless of the undersink plumbing, the cabinet can have deep construction to allow plenty of storage. A medicine cabinet featuring a thick wooden mirror frame can be hung over the countertop and will provide additional storage for soaps and other small toiletries. The cabinet can have a sculptural stone vessel sink on top of it to prevent the countertop from getting cluttered.
6. Contemporary Elegance
Today, contemporary no longer means cold. A contemporary touch can be added to a bathroom vanity cabinet with drawers that have flat-panel fronts and brushed-nickel pulls that feature that make the cabinetry slicker. At the same time, comforting warmth can be added to the tile backsplash and the wood finish of the cabinetry. The contemporary look can be reinforced with undermount sinks that do not interrupt the smooth plane of the countertop.
A bathroom is one of the busiest places in house and it is not complete without vanity cabinetry. While you could just about any kind of cabinetry to your bathroom, but if you want the space to stand out, then you may want to incorporate one of the above ideas.